Tether vs Cardano: Which is better?
Tether and Cardano, are great crypto assets to invest in. But which one is better? In this article, we will learn about Tether vs Cardano, and find out which one is the best.
Crypto is a digital currency. One can use crypto to buy goods or services online or for making any sort of online transaction. With time, the human race has come to depend on evolving modern technology and hence unlocking new opportunities towards growth and development.
As a result, many of us have adopted the new form of transferring money digitally. Although, it still has a long way to go when it comes to accepting digital money as compared to traditional money.
When it comes to the types of cryptocurrency, Bitcoin the first and foremost crypto has already established the groundwork for many of the cryptocurrencies that exist today. Aside from bitcoin, the crypto industry centers on a slew of other cryptocurrencies.
Among them, Cardano and Tether are two of the most successful cryptocurrencies today. They also operate on the same sophisticated cryptographic method as the other 4000 altcoins. Cryptos like Cardano and Tether have become the new bandwagon of the crypto sector as contactless payments grow more widespread.
Tether and Cardano are not only two of the most decentralized crypto monetary investing platforms, but also two of the fastest-growing cryptocurrencies. For day-to-day financial needs, these platforms allow for rapid, convenient, and safe transactions.
They also allow the participation of a large number of cryptocurrencies while maintaining Bitcoin's decentralization, privacy, and efficiency. However, the profitability of both altcoins is still a contentious topic in the crypto industry. With differing viewpoints from all over the world, it has managed to grab attention.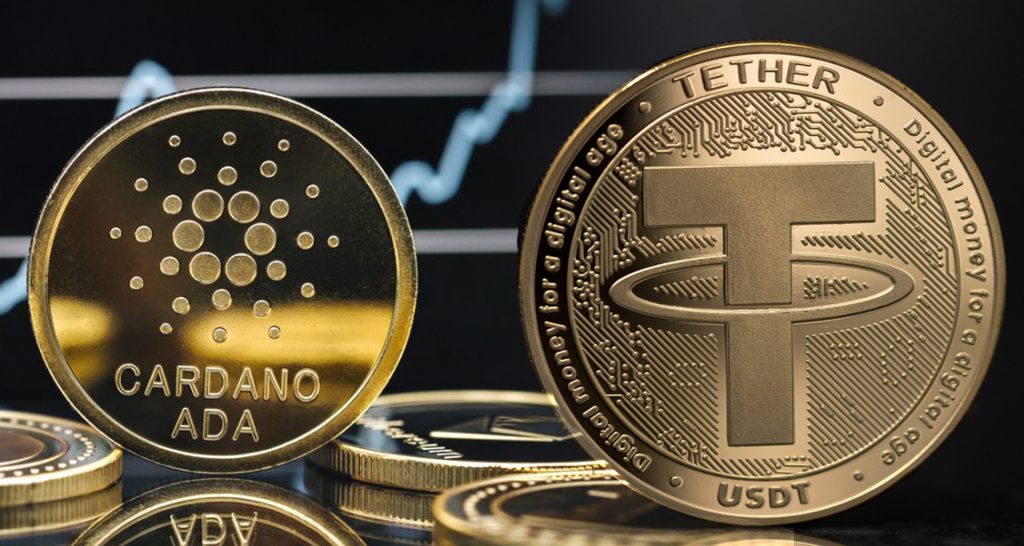 Is Tether better than Cardano?
To answer this question we will study Tether Vs Cardano separately and let you decide for yourself which is better.
Tether
Tether, like bitcoin, is a cryptocurrency. However, it is different from bitcoin or other virtual currencies. Tether as opposed to other cryptocurrencies is a stable coin. This means they are tethered to real-world assets such as the US dollar. The tethering helps it preserve a steady value making them less volatile. Crypto investors originally called Tether a "Real coin".
Tether, as a stable coin, has had a relatively easy ride in terms of price swings when compared to other altcoins in the crypto space. It started as a single dollar, and its value has stayed constant throughout time. This demonstrates how stable Tether is in terms of price volatility. It makes it a safe option as a store of value for you. As a result, it is still the first choice of investors who want to hold their cryptocurrency for a long time and then sell at a profit.
Cardano
Cardano is a peer-to-peer, decentralized, and secure proof-of-stake platform. Cryptographers created Cardano after years of research, and testing. Experts have made a great effort to publish 90 white papers about Cardano, describing its origins and workings.
It has a market capitalization similar to Ethereum and has been stated that Cardano will soon replace Ethereum. Cardano stands out from the rest because its blockchain network is significantly more efficient and private than the existing ones. Cardano, however, has a key drawback in that it is not yet capable of providing decentralized financial applications.
This decentralized third-generation proof of stake blockchain, which was launched in 2017, is easily scalable. It can be used to conduct safe transactions without the involvement of a third party. Its proof-of-stake network runs on the popular ADA cryptocurrency, which is also used by thousands of crypto users all around the world.
Cardano has a strategic aim to improve the regular trading method while allowing safe, transparent, and trustworthy transactions for everyone as a legalized platform. In comparison to Tether, however, it still has a long way to go.
Tether Vs Cardano comparison
The primary difference between Tether and Cardano is that Tether is a stable coin, whereas Cardano is a proof of stake blockchain channel. Cardano is an open-source platform that allows for the creation of secure, decentralized apps as well as the use of ADA tokens. It is however highly controversial.
Cardano intends to improve security, interoperability, and governance in decentralized applications, whereas tether aims to provide a safe and affordable platform for fighting poverty.
Tether supports both permission and blockchain without authorization, whereas Cardano only supports the latter. Tether uses transaction tokens alongside Lumens, whereas Cardano uses transaction tokens solely.
Should I invest in Cardano or Tether?
As previously stated in this article, both cryptocurrencies play a major role in the cryptocurrency industry. When it comes to choosing Tether Vs Cardano, it depends on the investor's viewpoint. Remember that both rely on a variety of elements to determine their profitability.
In brief, Cardano is a useful proof of stake platform and helps gain money in a variety of ways. Tether, on the other hand, is a seamless alternative to the US dollar and is equivalent to keeping money in your bank account until the cryptocurrency's price rises.
After reading this article about Tether Vs Cardano, I believe, you will be able to invest in the right crypto asset.